Praise God that Coronavirus has not yet hit Eastern Congo in large numbers. In the event of an outbreak the healthcare system is not prepared to adequately care for those infected.
Even without a large outbreak, the impact of Coronavirus has been severe on the population and added further burdens to daily stress
The country has been under lockdown since March. Borders to neighboring countries have been closed; while traffic between provinces has been restricted, even between cities and villages. Schools and churches have been closed. Public gatherings are not allowed. The pandemic has not only put a halt to public life but also the economy and commerce. Many markets were shut down.
People who earn their living by selling street food and goods were forced to close which has driven food prices up at the same exact time that people lost their jobs. Access to food, a problem before COVID-19 reached the DRC, has become an even more difficult problem to deal with. In Bukavu's Kabare prison 14 prisoners have died because of a lack of food.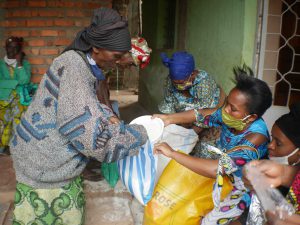 As Focus Congo, we care for the hungry! To identify those in dire need of food during this crisis, our local team has reached out to different communities in Bukavu and Goma. Since Wednesday, the team has bought loads of beans, rice, salt and cassava flour to distribute care packages in various communities – all in agreement with the respective "chef de quartier" in order to ensure security at all times.
We are asking for contributions and donations for this cause, which has reached a critical point for those most vulnerable in the communities of Bukavu and Goma. Every cent will be used to buy care-packages for those in need. Thank you!
Donate now at www.focuscongo.com/donation