It has been a while now since we first introduced you to the story of our friend Ombeni, who we first met on a visit to Congo.
Back then, he worked as a garbage collector going around the back of a dirty track which traced a path around the city of Bukavu. Little did we know that his life story would be the start of our work with orphans.
One morning my friend Ryan and I noticed a young man collecting garbage. We noticed him mostly because there was something funny and even joyful about him. We saw that he wore glasses, but as we got closer we realised that he didn't have lenses in the frames. It gave us the opening to speak with him naturally. Why was he wearing frames with no lenses? He told us about how he loves making people laugh and that is why he was wearing those glasses.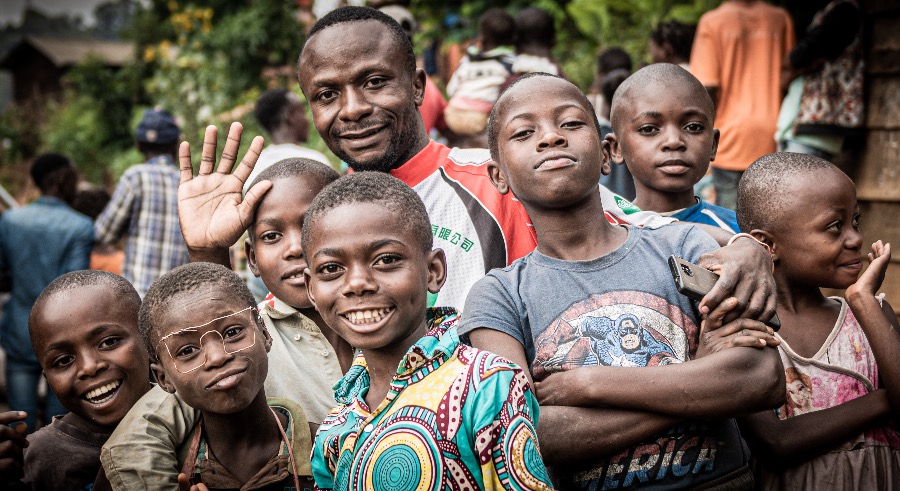 I was curious, so I asked him more about himself and told me his story. Ombeni was orphaned when he was just 10 years old when his parents were killed during the conflict in Congo. He actually saw his parents and one of his brothers being killed. Not only that, but he was left with three siblings, his sister and two brothers, to take care of. He works everyday collecting garbage to make sure his family will have something to eat, but we knew that this job doesn't provide enough for the care of his siblings.
After this first meeting we knew that we wanted to help Ombeni, so we kept in touch with him. It wasn't for another few months that we were able to start supporting him. When we called him and gave him the good news that he would be able to send his siblings to school and that we would also be able to help pay for shelter and some food, he was full of such joy and celebration. He told us that it was the best news he has ever received!
However, Ombeni's care didn't stop there. Using what we supported him with, he decided to take in 9 other kids that also lost their parents during the war. Why? He told us that he has lived on very little already, and now that he has some support he would really love to give a chance to other children that are struggling. That showed us that you don't have to have a lot in order to support others; you just need to have a heart for people and understand the saying of loving your neighbor as you love yourself.
Ombeni now lives in a home that Focus Congo is renting for him. He lives there with his brothers and sisters, and the 9 other kids that he has taken in. Beyond our initial help, we decided to assist Ombeni further, by helping him start a small shop where he charges mobile phones and sells different accessories to customers. This helps him to concentrate his efforts and to be in a position where one day he will be able to independently provide for his family.
Sadly, there are many kids in Congo who are like Ombeni. Having lost their parents, most of them live on the street with no future and no hope. We believe these kids deserve a shot at life: they deserve to have something to eat; they deserve to have access to good health care; they deserve to have an education.
This year, especially as we were out delivering food packages, we saw many of these young kids with nothing to eat; you could see that they were in bad condition. When we were distributing food in Chiherano, the village where I was born, a kid approached us. We saw that he was dirty, and although he could walk well we saw that his toes and fingers were rotten from the worms in his body. It was scary, but at the same time it made us realise that it is time for us to take action and help these kids that are in such bad condition.
To do this we have decided to start HOUSE OF HOPE!
Our dream is that this will be a house where these kids can come and be given a home, an education and mentorship. Of course we want to see how we can help them have a better future. I talked to my father and asked him if I could have the house that I was born in to renovate and make into the House of Hope.

My father was very happy to hear this idea! Now we just need to renovate this house, furnish it with the materials it needs to run as a home and school, and there we go. We are very excited about this house because it once gave me life and now it will be giving life to these kids in need. We want to be the change in our society by offering a better future to these kids and I believe that tomorrow they will become whom God has intended them to be.